ANBA announces a new project, funded by Volkswagen Australia, to boost stingless bees on the fire-ravaged mid-north Coast of New South Wales.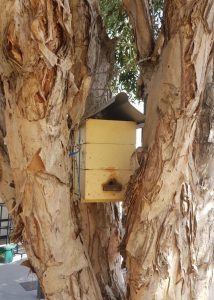 The extreme bushfires of 2019 and 2020 had a catastrophic impact on the habitats – food, shelter and homes – of endemic species along the mid north coast of NSW. Stingless native bees are social species that lives in the cavity of tree trunks. Taking into consideration the density of these bees in natural forests (1/ha), the area burnt (5 million ha in NSW) and the distribution of this bee species, then we estimate that at least one million bee nests were destroyed in this area alone.
Tetragonula carbonaria is a sub-tropical native bee species endemic from Queensland to the south coast of NSW and were especially common in the burnt-out forests stretching the central to northern coastal regions of NSW. They are a robust native bee conducive to being propagated in man-made timber hives. They are stingless, docile and excellent pollinators.
This ANBA initiative is a response to the plight of native bee species by re-introducing Tetragonula carbonaria, into this heavily affected area. We expect these bee populations will reestablish successfully and spread to support the general revival of native bee populations. In turn the bees will provide pollination services to the recovering bushland and help to maintain the health and genetic diversity of the forest plants.
Our objective is to sustainably introduce native bee colonies in a competent, caring, practical and professional manner. Hives will be installed in secure locations, so the native bees have the maximum opportunity to re-establish.
ANBA acknowledges the generous support of Volkswagen Australia.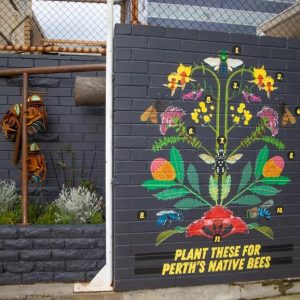 Dr Kit Prendergast helped consult with WA Loves Nature on the installation of an Amegilla chlorocyanea ("blue banded bee") sculpture, which was launched today! (17th July). Come and find this beauty on the corner of Hay and Outram Street in West Perth! This has been a few years in the making with local neighbour-hood group West Perth Local. This project was made possible with the help of Patrick Gorman MP and his team through a Community Environment Program grant. The sculpture was created by Respoke.