After a break in January, we got the year going with this firecracker. An estimated 1,000 people turned up at Bulimba Community Centre and Park in Brisbane to create something new and special, the Native Bee Expo and Sugarbag Festival.
The attendees represented all native bee fans from curious beginners to some of the most experienced practitioners around. The information exchange occurred in conversations, and demonstrations, in information tents and at the HUGE native bee hive exhibition.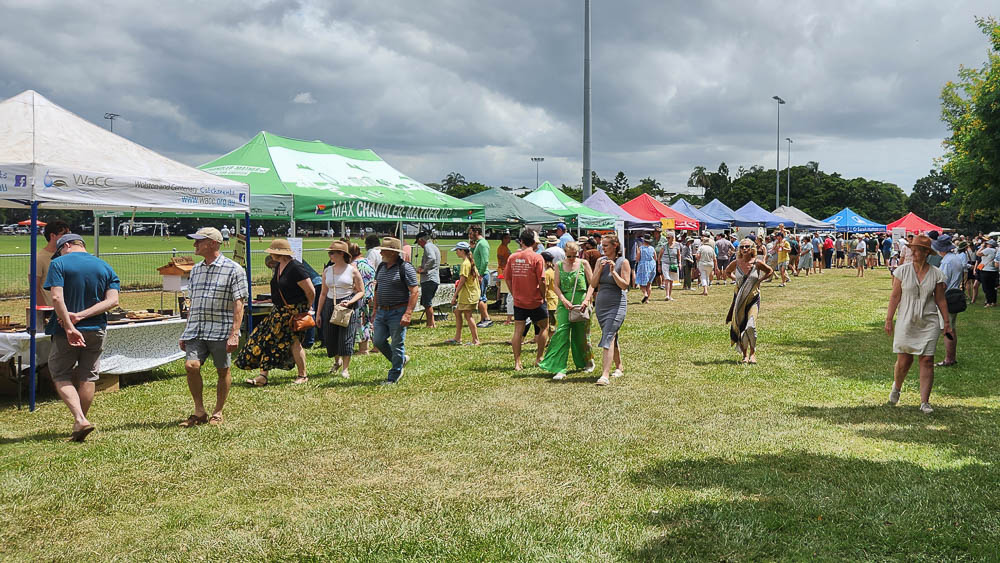 Sponsors
We are grateful to the following for funding this free event; they reached into their pockets so the attendees did not have to: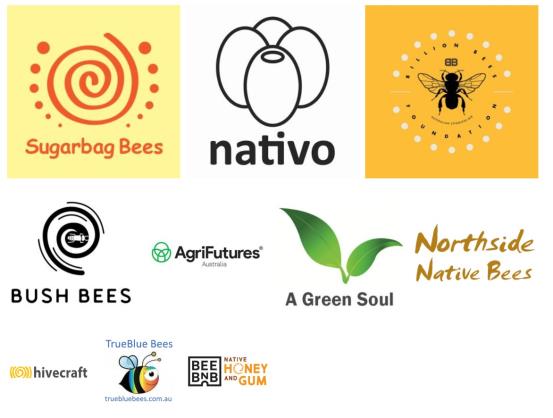 Many thanks to the volunteers (about 21 of them, managed by Glenda Parker). The free event was run entirely by a group of volunteers. The hard-working team of Glenda and Ed, Jennifer and Greg, Nina, Tim, Dean, Kupae, Zoe, Judith, Lynda, Peter, Elaine, Clive, went above and beyond.
Indigenous artists performed and displayed their talents, including:
• Welcome and dance from Spirit of the Red Sand "Nunukul Yuggera" (For many people, this performance was the highlight of the day!),
• Max (Kupae) gave a Men's spear and didj making workshop,
• Desert-Rain Magpie gave a Women's weaving event.
• Matthew played his didj and told his story, Princess Bee and the Boy (see the review of Matthew's book on page 7 of this issue).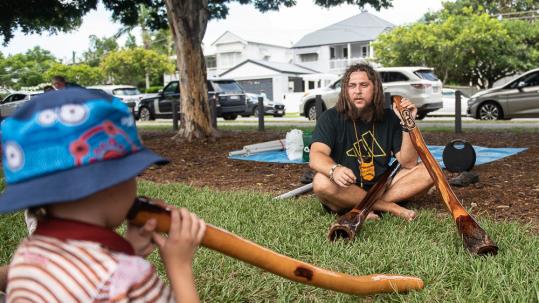 Experienced operators showed hive propagation techniques, honey extraction, and bee hotel construction. Thanks to :
• Ian Driver,
• Ed and Glenda Parker
• Doug Irvine
• Kit Prendergast
Suppliers of native bee products, services and information Operated from their tents and interacted with the large and enthusiastic target audience.
• Doug Irvine
• Beezotted
• Wide Bay Stingless Bees
• Spicers Hollow Native Bees
• Bayu Stingless Bee Honey
• Billion Bees
• Sugarbag Bees
• Bush Bees
• A Green Soul
• Northside Native Bees
• True Blue Bees
• Bee BnB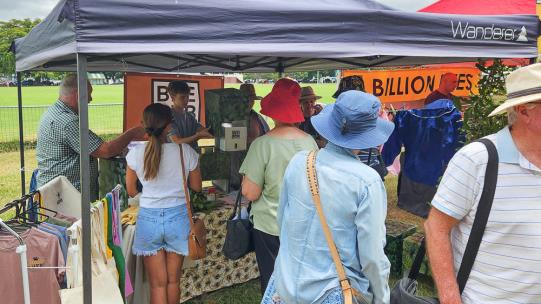 Hive Competition
Our hive competition will be a central part of the Expo and it proved to be more inspiring than ever. What a breathtaking showcase of the diversity and ingenuity of our bee keepers.
Winners
Eleven commercial hive entries and 40 standard entries vied for the prizes.
The Judges (Trevor Weatherhead and Courtney Castles) called the following decisions:
A. Judges choice; entry, Steve Flavel hive.
B. Best Decorative hive (also called "best paint job"), David Gilbert hive.
C. Best Bee Hotel, Ruth Russell, Etamogah pub
D. Best Accessory, Bill Kraft, Bee vacuum attached to rescue hive
The people's vote decisions were as follows
Hobby Category; Ruth Russell, Etamogah pub
Commercial category; Steve Flavel hive
Yellow hobby category: 1st Ruth Russell, Etamogah Pub, 2nd (yellow 19, David Gilbert), 3rd (yellow 35) Ocean Wemyss round hive.
Blue commercial category: 1st Blue 11 Steve Flavel, 2nd Blue 39 Ocean Wemyss round hive, 3rd Blue 15 Steve Flavel hive.