Wide Bay Stingless Bees, Precision Bees and Bee Prepared held a workshop on the 10th April 2021.
Around 60 people attended.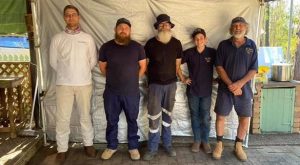 The crowd split between three areas with Adam and Alysia from Precision Bees discussing eduction and pollination, Josh and Marti from Bee Prepared discussing splits and transfers from boxes and water meters and Tony from Wide Bay Stingless Bees and Wayne and Kobe from Bee Native doing log transfers from several species.
These displays were done several times throughout the day so people could watch and be involved in each ses-sion. The day was a great success.
Photo: Adam, Josh, Tony, Kobe and Wayne, some of the presenters at the workshop
For more info on branch activities, visit our Facebook page Australian native bee association – Wide bay branch., https://www.facebook.com/Australian-native-bee-association-Wide-bay-branch-112512193439742
Tony & Sharon, Anthony@widebaystinglessbees.com.au