Our AGM will be held on Sunday 7 November 2021, by room and Zoom.
You should have received a notice of this by email. We have given the required 14 days notice for nominations to the Management committee. We have received nominations for the 5 positions required by our rules but we will be voting for some extra positions and calling for nominations for those.
If you did not receive an email notice, please check we have correct email address. You can do this yourself by logging onto the website clicking on your name and up-dating your profile. Please check your postal address and other details while there.
We invite you to read the feature article this week on some fantastic research to find the best native plants to use for feeding bees, a great result for conservation of plants and bees.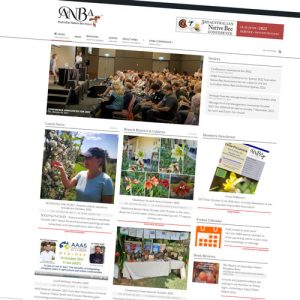 We have started the process of building a new website. The old one was a quick fix to get us going but needs a complete rebuild to provide the native bee information that our members and wider community deserve. So watch out for a new site and let us know what you think. The site will include information on the next Australian Native Bee Conference, very exciting.
Warm regards from the Management Committee: Tim, Dan, Ian, Peter, Lachlan, Steve, Kit, Toby, Dean, Diane, Lloyd, Mark, Monica, Neil and Tony