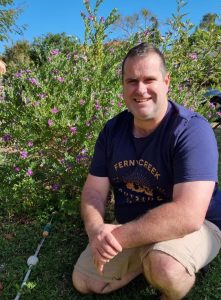 Monthly live online events of the Australian Native Bee Association
The next meeting comes from the Brisbane branch, on Sunday 3 October, 1 pm.
VENUE: Bulimba Community Centre, 1 Barramul St, Bulimba, Brisbane.
All are welcome to attend in person. Free for members, $5 for non-members.
ANBA members can attend by Zoom, a link to join this meeting will be sent by email prior to the event.
The main event will be a talk by Geoffrey Dutton. "Photographing native bees around my suburban Brisbane home"
Abstract: I currently have over 20 native stingless bee hives of 3 species. My fascination and desire to learn more led me down the path of buying a digital camera and explore the realm of macro photography. I will share my tips to capture, edit and share images. I would also like to share my approach to biological gardening for bees and using a phone to identify plants.
Biography: I grew up on a Banana farm in the Coffs Harbour area. I helped create and establish gardens of over 800 cultivars of Daylilies and bred over 100 of my own daylily hybrids whilst at high school. I worked weekends and holidays in a plant nursery, then studied a Diploma of Applied Science (Horticulture) and a Bachelor of Applied Science (Environmental and Production Horticulture) at University of Queensland Gatton campus. I left for the Atherton Tablelands, Far North Queensland where I worked over 8 years in the nursery industry, transitioning into a biological/fertiliser advisory role within the agricultural and horticultural industry which followed by myself helping to co-manage a farm producing several crops to supply city Organic markets. I met my wife, moved to Brisbane and transitioned into the retail sector. I still have a keen interest in plants and since getting my first native stingless beehive, now with bees. As a Christmas present I shouted myself a good camera with a macro lens to try and photograph these marvellous little creatures.
Following the talk from 2-3 pm, we will hold our branch AGM, to elect positions and report financials.