Rescues from utility boxes
Gladstone Regional Council have been in touch again in relation to rescue of hives from water meter boxes. Not as many hives this time, only three reported, 2 in Gladstone and one in Mount Larcom.
Once again we would like to thank GRC for choosing to contact us and we look forward to a continued partnership with them in the interest of preserving the species. There has been quite a bit of discussion within the group about how we manage this process. Another rescue hive that has been reported by a member of the business community is in an old PMG (Telstra) pit in Gladstone is on the to-do list.
Opening an Austroplebeia hive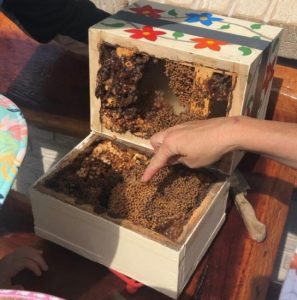 Now that conditions have warmed up and our bees become more active, members have indicated a desire to look at splitting their existing hives to increase their population. One such hive was that of Joanne and Mark Driver in Tannum Sands. Just before Christmas, with everything ready including the audience, we opened it up to discover a very healthy hive of Austroplebeia It still had a lot of vacant space so we immediately made a call not to proceed. Interestingly they had not moved any stores into the honey super. The whole exercise was a fantastic experience for all the family, particularly the grandchildren who I believe have not stopped talking about it since.
Hive donation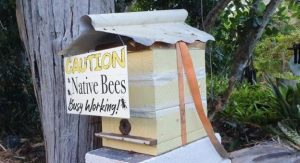 I have just recently donated one of my very active eduction hives down to an Agnes Water camping area "Travelers Rest". Hosts Michael and Michaela conduct regular bush tucker and native plant walks followed by billy tea through the property for their guests as well as a very informative slide show in the evenings. The native hive now has pride of place at his camp kitchen and is now going to be included in his activities as an education tool. We are planning to split the hive with his guests at a later date. If visiting Agnes / 1770 at any time, I can fully recommend a stay.
Hive propagation by eduction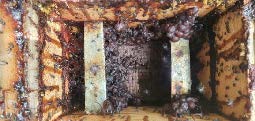 The second eduction hive from the same log has not yet lived up to expectations with plenty of activity but when opened up recently found it only being used for stores after 31 weeks, the first took only 16 weeks.
Hive propagation by splitting
Now that I have found a little bit of free time away from turtles and marine debris, I have started looking at some of my other hives for potential splitting. One this week was proved very successful was originally a rescue hive from a log which had fallen down and split open 3 years ago and I gathered it up and placed it in a box where it survived and became very strong. This is now one of 5 hives from the original and I still have another three sister hives located elsewhere for potential splitting. I believe this is what sustainable native bee keeping is all about, propagating and sharing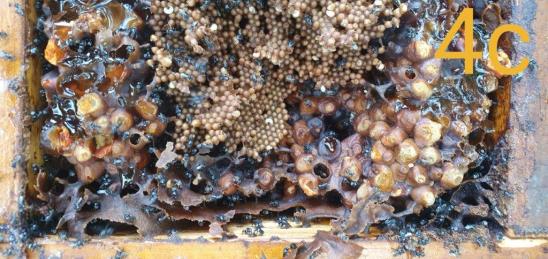 For more info on branch activities, visit our Facebook page ANBA Gladstone Branch, https://www.facebook.com/groups/480678232538075
Ian Anderson