Our last get together for the year was our festive breakfast at Shearwater restaurant on Sunday 5 December.
The weather was overcast with a few heavy showers of rain but that didn't deter our enjoyment of the great company and fine food. We ended the year on a celebratory note, looking forward to the new year and more opportunities to get together.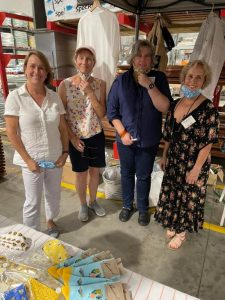 A top night was also had at the Bunnings Christmas Market on Thursday 9 December talking about bees with interested members of the public. We were invited to share a stall with the MNCABA (Mid North Coast Amateur Beekeepers' Association) at the event. Highlights of our stall included Elaine's excellent bee masks, our ANBA educational posters, Tim Heard's books for sale, and some hives and other lovely items featuring native bees from Judith of Coffs Beekeeping Supplies. Bunnings was very supportive and provided a pin-the-bee-to-the-flower activity as a fundraiser for us to use, as well as a huge selection of seeds to give away as prizes.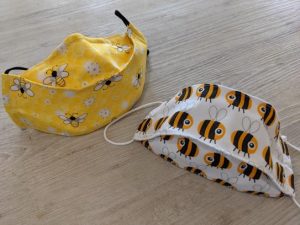 Elaine Bean, our Treasurer, has been using her talents to sew reusable cotton face masks with a bee theme, in order to raise funds for the club. These have proven quite popular among our members and the general public. The masks were advertised on Facebook Marketplace with many people in our local community buying them, as well as interest from interstate. While some people love them for the colourful fabrics, or the bee theme, many have found them extremely comfortable to wear with a lot of positive feedback being received, as well as repeat sales.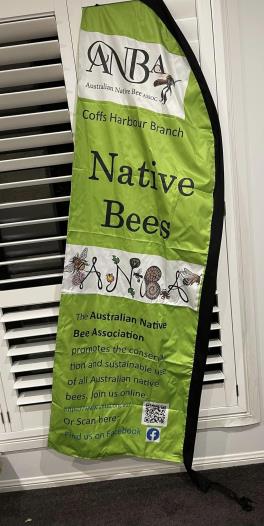 Our first meeting for 2022 is planned for Sun 27th February and more details will follow in the next newsletter and also via email to branch members. We've received a very smart new feather banner for the club from ANBA headquarters and look forward to using it out and about this year. Many thanks to the ANBA executive for organising this for us.
Contact Secretary Alison with any questions, albeswick@hotmail.com, or 0417 712 957.
Visit our Facebook page, https://www.facebook.com/groups/756068211719759