This month has seen lots of action regarding native bees in the Cairns region.
Earlier this month we had a wonderful workshop held jointly with the Cassowary Coast branch at the Babinda Golf Club with Tim Heard. Full report with photos is published elsewhere in this publication.
We are still awaiting the results of the submission to Cairns Council and we hope to be able to talk more about this in the next Cross Pollinator. The funds we have requested as part of the Council's Climate Change and Sustainability program we hopefully give us some wonderful resources for the years ahead.
This past week we held our AGM and had the opportunity to identify the achievements of our first year as a branch of the ANBA. That report will also be published either in this Cross Pollinator or in the ANBA annual report. It was quite reaffirming to look at our accomplishments over the past year and to set goals for us to achieve this coming year. We truly believe that we have achieved our stated goals of raising awareness and helping to educate the public regarding Australian Native Bees. The meeting was concluded with a visit to the native beehives at the Friends of the Botanic Gardens building, a must for anyone visiting Cairns.
To conclude this report, members of the Cairns branch again visited the Mialla State School to discuss placement of the hive to be presented shortly. This hive was the result of a rescue by Cassowary Coast branch, thanks Liz Lang, into a Cairns branch empty box. The T. Sapiens are coming along nicely with lots of brood and the queen evident. The hive 'handover' will happen shortly.
From: Stewart Clarke sclarkehk@gmail.com, Chair and Representative to ANBA
Cairns Native Bee Association Facebook group,
https://www.facebook.com/groups/1269746467098269/
---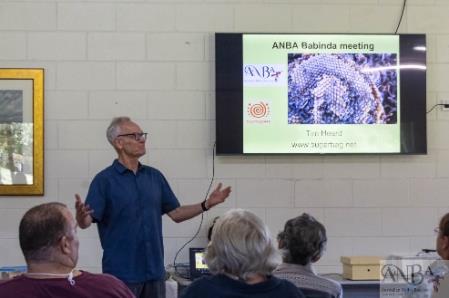 Report on Babinda Workshop 23rd July, hosted by Cairns and Cassowary Coast Branches
Babinda turned on a glorious FNQ winter day for our workshop with Dr Tim Heard. Workshop content was driven by requests from the Cairns and Cassowary Coast branches, with a Q&A session first followed by a hive audit. As we gathered in the golf club meeting room it was obvious from the number of hives people brought with them, that the hive audit was going to be an ex-citing and much anticipated session.
Tim agreed to shape this workshop around members' questions, and we didn't disappoint with a wide variety of concerns related to our FNQ bee species. What we reaffirmed was that there is not enough research happening on our local species, particularly T. sapiens and T. clypearis (there's even conjecture on the pronunciation of the species' names!) Members were encouraged to observe and document any unique behaviours of our bees as this will add to the collective knowledge about our FNQ bees.
Discussion topics for the Q&A were as follows:
Brood
Much discussion was had around weaker hives and the best ways to transfer brood from one hive to another, including from different species. (This would be a poor choice).
Boxes
Hive box design is always a popular topic in FNQ, due to our common species, like clypearis, having an extremely small volume of brood and stores in comparison to southern species. Consequently, our hives are much smaller and many of us take to designing and building
our own boxes to accommodate these smaller species. Steve Flavel, was present with Tim and was able to offer some sage advice. Steve has had extensive experience in building and testing hives and has extensive information
on his website, www.nativebeehives.com
Species ID using DNA
DNA was a rabbit hole we travelled down with some interesting conclusions. Many of our members have boxed hives where the bees have been rescued. As such, the species has not been definitively identified, and questions were raised as to how an ID could be confirmed. We know that Ros Gloag from the University of Sydney conducts DNA testing on bees often collected by Steve Badeley when he visits FNQ, so keep an eye out for notification of his visits to the area. Many of our local bees seem to display variations in physical characteristics when compared to the same species in SEQ. T.Hockingsii are one of those species now being often referred to as northern or southern hocks. Looking for definitive DNA differences may call for a rename of Hockingsii into 2 subspecies: Northern and Southern. This is also being considered in some areas of the Northern Territory where the Hockingsii bees are more than
Hive location
What are the acceptable methods for moving hives? Some people have had success taping their bee hive entry with mesh and moving them to a dark room for a few days and then relocating them into a different spot in their yard. Why does this work? Is it due the fact that bees have a relatively poor memory? Visual clues on hives were discussed and we need to be aware that changing the appearance of a hive during the day, say with a Styrofoam cover, may confuse bees returning after foraging.
FNQ weather conditions.
We discovered that we did not have vast knowledge on native bee habits and behaviour within our rainforests and this is certainly an area we can help collect information. Mould in the wet tropics is something we all, including native bees in the wild, have to live with although it is not ideal and hive location is important to combat this condition. Bees also have a 'latrine' area in their hives and this may be the location of small amounts of mould that probably have little effect within the hive. This spot may even act as a vaccination station for bees.
Indigenous culture
We discussed the important role native stingless bees played in Indigenous culture and how it is evident in
drawings and stories. Asian neighbours We share some common species of bees with our Asian neighbours. This is not only with stingless bees, but Blue Banded, Great Carpenter, Neon Cuckoo and others. Tim showed us some slides detailing bee keepers in Malaysia as they propagated stingless bee colonies using bait hives. These hives were coated inside with a mixture of propolis and rubbing alcohol. The hive itself was a large soft drink bottle covered with black plastic. More than one member will attempt to replicate this method and report back to the group.
Nidhi Chakma, a Research Assistant and PhD student from Griffith University was introduced to the group. She was looking for people to offer their hives for her re-search, where 3 samples from honey pots, pollen pots and propolis from each hive would be taken.
The samples are going to have their DNA identified and then matched to their plant origin. Several members invited her to their homes to conduct her collection. After DNA examination she hopes to identify which plants bees are going to as they collect pollen and nectar; exotics or native plants. This information will then be used to inform species planting bordering commercial mono-culture farms, such as macadamias, in order to provide diversity in diet for pollinating bees. This is another inter-esting scientific initiative happening regarding our native species of stingless bees.
Honey Extraction
Dr Heard conducted a honey harvest from a Hockingsii hive. It was fascinating to see that the bees which were trapped in the honey, tried to eat their way out (aka Homer Simpson) and in doing so changed their appearance. Their bodies became so swollen from the honey that they looked a lot more like a queen than a regular bee!
Hive Audit
Many hives were examined, some with a disappointing prognosis such as a Hockingsii hive which had failed to requeen. It is currently being educted in an attempt to save the hive. We saw some hives with poor construction, plastic in particular, which doesn't absorb moisture within the hive, and was the potential cause of the hive failing. Others had simply covered their brood to keep warm in our winter months, albeit mild winter months. This is generally an indication that the box is too big for the hive and removing a layer of the box is advised to make the hive more 'snug'.
In conclusion we had another wonderful, informative day spent with likeminded people at a beautiful venue. We're already looking for-ward to a visit from Dr Tim Heard next July as he escapes the winter of our southern cities!
Report by:
Stewart Clarke Cairns Branch
Liz Lang Cassowary Coast Branch
Photos accompanying this report were taken by the talented Jane Frost from the Cassowary Coast Branch.