Report of December meeting
The December hive Exhibition did not disappoint. With a packed house, abundance of exhibits, great prizes and plenty of friendly competitive spirit, the event was memorable.
For Steve Flavel's well-illustrated report of the event, see this link https://www.nativebeehives.com/hive-competition-2021/.

And the prizes for each category went to:
• Peoples Choice – Glenda Parker's baked hive. Baked with flour, salt, perlite.
• Judges Choice – For innovation or overall excellence – Log Hut (Steve Flavel), Runner up Tony Goodrich hive.
• Best Paint Job – David Gilbert's laser etched hive, Runner up – wrapped hive (ANBA club raffle hive)
• No entries for bee hotel
• Best tool, device or accessory – The Bee Vacuum by Bol from Mt Gravatt Men's shed.
• People's choice for commercial hives – Alex Derrick's australis observation hive.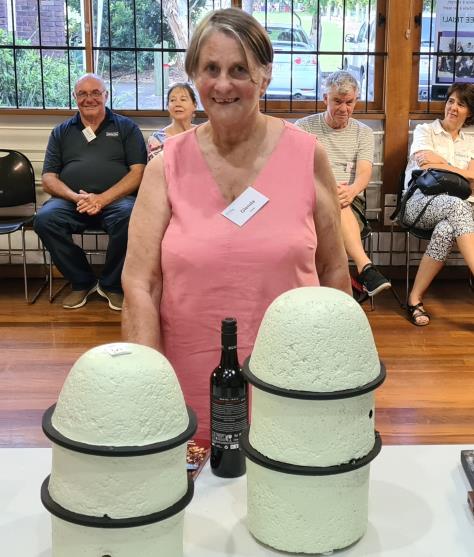 Next meeting, 6th February
Our next meeting will be held on Sunday 6th February, at Bulimba Community Centre, 1 Barramul St, Bulimba. Free for members, $5 for non-members. ANBA members can attend by Zoom, a link to join will be sent by email prior to the event. Dr Brian Johnson and Dr James Hereward will speak on the topic of "Pesticides, mosquito control, and stingless bees in SE Queensland". See page 10 of this issue for full details. Masks and vaccine certificates required please.
World Science Festival 2022
The Australian Native Bee Association and the Entomolog-ical Society of Queensland will partner with Butterfly & Other Invertebrates Club over the weekend of 12 & 13 March 2022 at Southbank to present an interesting and informative display to the public as part of the World Sci-ence Festival.
We need volunteers to help at the display – if you require more information and would like to register your interest, please contact Brisbane branch chair, Dean Haley,
Get your tickets for the Great Hive Raffle
This Beautiful hive is valued at over $700 and is the result of donations by club members, and members of the public. The box, the images, and finishing woodwork donated by club members. Professional image wrapping (similar to wraps on cars) donated by Dean's mate Shaun, a true professional and master of his craft. Stocked with carbonaria bees, this hive is for sale by raffle to raise funds for the Brisbane Branch. There are very limited ticket numbers. It's almost a guarantee* that you will win (*not a real guarantee).
Thanks to:
• Tim Heard (Sugarbag bees), supply of hive box.
• Sean Frampton (Custom Wallpaper Tarragindi), Hive wrap.
• Jenny Thynne, solitary bee images.
• Glenbo Craig, Brood spiral image on top of box.
• David Gilbert, Project coordinator, landing pad, and legs.
• Dean Haley, bees.
From Dean Haley
For more info on branch activities, visit our Facebook page Brisbane Branch, Australian Native Bee Association, https://www.facebook.com/bnbeec