As mentioned in last issue, we are planning the official unveiling of the Ruth Crosson memorial plaque and native bee information sign-age in the Tondoon Botanical Gardens.
This will complement the log hive donated by our group to the Gardens as reported in last edition. It is now in the program for official opening of 2021 Eco Fest. Samantha Redshaw has been working feverishly behind the scenes to have the sign and plaque designed and printed for assembly prior to the event. We have also successfully applied for a grant through the Gladstone Mayors Discretionary Fund to cover the cost of producing and installing the sign, thank you GRC.
Tondoon Gardens are also in the process of redeveloping their native bee garden area and it is believed the above signage will go a long way towards enhancing this area by educating the public about the benefits of native bees.
In recognition of World Bee Day on 20 May we have been thinking about a couple of activities we could do to promote the benefits of native bees in our community and couple have come to mind.
Donation of a native bee hive to our local Tannum Sands Men's Shed to enhance pollination in their quite substantial vegetable garden. There has been a very keen interest in gardening by a number of their members and we have engaged some others with constructing OATH Hives for anyone wanting to get into bee keeping. We decided to do a hive split at the Shed so that members could see for themselves why we build them a particular way and it may now lead to a better-quality product. Not only does this enhance pollination but the also the education of members about native bees not to mention the physical and emotional benefits to those building the boxes.
One interesting point is that this particular hive that we split is one that was rescued from a broken log not 100m from the location of the Men's Shed and is now the 4th hive to come from this one hive. You could say it has returned home (Photo 1 ).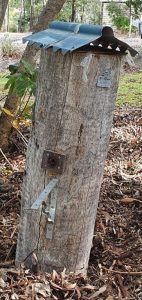 Another project that we have been involved in is the establishment of a native bee education tool in the Boyne Island Environmental Centre in partnership with local Rio Tinto Business, Boyne Smelters Limited. As part of this project, we donated a log hive that was rescued from the Boyne Smelters buffer zone last year and has been carefully maintained awaiting placement at the Centre's Sensory Garden so that students can both see and hear the activity as the bees go about their business. In the time awaiting placement it has also been possible to successfully bud a new colony from the log so not all is lost. We decided to leave attachments in place ready for them to connect another eduction hive if they desire (Photo 2 ).
Whilst both Mark and Ian have been a little bit preoccupied with other activities, we have been feverishly looking at ways to keep the enthusiasm of our group up and looking for ideas.
For more info on branch activities, visit our Facebook page ANBA Gladstone Branch, https://www.facebook.com/groups/480678232538075
From Ian Anderson
Photo 1. Men's shed gardeners with their hive
Photo