Coffs Harbour becomes the latest and eight branch to join up. A meeting of local enthusiastic members held on 1 May voted to form the branch and elected an executive consisting of Monica Rich, James Orr, Alison Beswick, Elaine Bean and Darren Barber.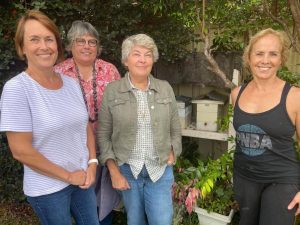 The branch is keen to raise awareness of the risk of Afri-can tulip trees and take action against them. Other future campaigns may include:
taking on an educational role with local schools
demonstrating the splitting of a hive
promoting native bee honey entries in the Coffs Harbour Show
Photo: Members of the ANBA Coffs Harbour executive, Elaine, Alison, Judith & Monica alongside Monica's Tetragonula carbonaria hives.

The next meeting will take place at Coffs Harbour Botanical Gardens on Sunday 20th June 2021
This easy walk will run 1pm to about 2.30pm with a branch meeting to follow til 3.30pm.
Share the experience of likeminded people while we ex-plore the natural habitat of the native stingless bee in the Coffs Harbour Botanical Gardens. This experience is not limited to ANBA members but also visitors interested in becoming part of this community group.
Please wear a hat, sunscreen, have suitable footwear and bring water.
Donation of a gold coin at the door to the ANBA Coffs Harbour Branch.
The full programme of walks and/ or talks for the year 2021 is currently being planned, but activities will only be advertised on a monthly basis until covid restrictions are known with more certainty.
For more info on branch activities, visit our Facebook page ANBA Coffs Harbour Native Bees, https://www.facebook.com/groups/756068211719759
Monica Rich, Representative to ANBA Management Committee, Monicarich00@gmail.com