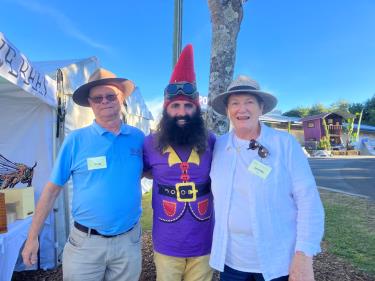 Report of the July 2023 event QLD Gardening Expo
Brisbane branch attended the QLD garden expo at Nambour on 7, 8 and 9th July. This is our second time attending, and once again there was a lot of interest from the crowds, often three deep around our gazebo. Our volunteers talked themselves hoarse, but all agreed that they had an incredible amount of fun. Three Wide Bay branch volunteers joined us, and it was good to network and make connections.
We found the gardening type public were very happy to learn about all types of native bees. Ian Driver's solitary bee information and dis-plays were very popular. Also popular was the carbonaria observation hive, honey tasting, Tim Heard's book, Doug Irvine's Hives, Steve Flavel's Outhouse and Post Box hives (which we raffled), and any information on flowers that linked to our bees.
A few celebrity mentions. Tim Heard native bee talks at a nearby stage resulted in a flood of people coming to the gazebo afterwards. We had visits from Jerry Coleby Williams and Costa Georgiadis of Gardening Australia fame.
Many thanks to the QLD gardening Expo, Wendy Cliff (Sunshine Coast Council), Wide Bay volunteers Stephen Curran, Trevor Galletly, Nene Buckland. Brisbane volunteers David Fairbairn, Lemise Kassim, Ian Driver, Clive Hatfield, Stewart Hobbs, Helen Hobbs, Peter Stone, Dean Haley, Tim Heard, Greg Shea, Jennifer Shea, Stephen Brownlie.
From Dean Haley and Greg Shea, Chair and Secretary of the Brisbane Branch
For more info on branch activities, visit our Facebook page Brisbane Branch, Australian Native Bee Association, https://www.facebook.com/bnbeec