Native stingless bees are at risk from Fipronil, a toxic pesticide that the NSW Department of Primary Industries is using to destroy nests of feral European honeybees in their Varroa Mite Eradication program. If you have native stingless bees in one of the program's red Eradication Zones, ANBA recommends that you move your bees soon!
ANBA can assist you, if you do not have a safe place where you can take your bees! Visit: www.anba.org.au/varroa-response
Is your hive in a red zone?
• Go to this website: https://www.dpi.nsw.gov.au/emergencies/biosecurity/current-situation/varroa-mite-emergency-response
• Scroll down to the interactive Varroa mite emergency zone map.
• Enter your address into the search field.
• The map will locate your address and its placement in red, purple or blue zone.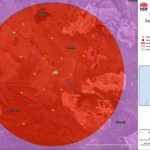 If you are in a red zone, try to move your bees to a friend's or relatives' property that is outside of the red zones. Make sure, however, that the climate of your new site is favourable for stingless bees. For instance, if you are in the Newcastle region, you could move your hives to a northern coastal area, southwards to Sydney / the Illawarra, but not to areas further west than the Hunter Region.
---
How to move your hive of native stingless bees
Tips for transporting your hive
Pack the hive at night when all bees are inside.
Close all entrances to stop the bees leaving the hive. Use something that can breathe, such as a piece of material, gauze or fly screen. Push the piece of material into the entrance loosely. Make sure all holes are plugged.
For extra security, pack the hive into a cardboard carton.
KEEP THE HIVE COOL. Put your car air-conditioning on a low temperature. Do not leave the hive in a parked car. Take it with you and leave it in a cool, shady place. Treat the hive like you would treat your pet dog.
Be careful with hives that are very full. Full hives have little air space inside and so are more susceptible to lack of oxygen than a hive that has a large volume of air space.
Move you hive at least one kilometre, to prevent forgers returning to the old position.
After moving a hive to a new position, remove the plugs. Bees should immediately emerge (if it is daylight and above 18°C). They will do a backwards hovering orientation flight to learn their new position.
Recommendations for positioning native bee hives
You should choose the best position for your hive before releasing your bees for the first time; you don't want to have to move your hive more often than necessary.
Choose a suitable microclimate, that will be comfortable 24 hours a day, 365 days a year.
On an urban house block, a covered outdoor area is usually a safe bet to position a hive. A position that receives morning sun in winter is optimal. Afternoon sun can cook a hive in summer, so avoid exposed western positions.
Consider moving your hives to a cooler spot in summer and sunnier position in winter. For example, step your hive into the shade of a tree in summer and then out into the sun in winter.
Recommendations for mounting native bee hives
Extend the life of your hive by protecting it from threats from below, particularly termites and damp.
If outside, cover you hive with an overhanging roof to protect from sun and rain
Source: The Cross-Pollinator, Issue 37, October 2022, page 5