Quite a bit happening around Gladstone over the past couple of weeks since the last report and its great to have the likes of Nanette, Karmen, John, Alicia & Ray, and Ross stepping up to help with organizing events in my absence.
The first event was a Community Connect day Sat 8th Oct at Tannum Sands RSL Hall where a number of local community groups came together to display what their organisations are doing in the community, The Boyne Tannum Mens Shed supported us by flying the ANBA flag along with a couple of their boxes and a lot of interest was shown in native bees, Thanks Ross for manning the fort and answering questions.
On Sat 15th Oct the Gladstone Men's Shed also had an open day and invited our group along to promote native bees. Once again there was a huge amount of interest shown and thank you to Samantha Redshaw for providing us with a mountain of resources including her Austroplebeia cassiae observation hive.
John Starr also brought along his work in progress observation hive and I can't wait to see it with bees in it but I think I will have to get John to do a story on its development. Incidentally the Men's Shed also have two very healthy hives beneath their macadamia trees and have asked us to support them in the future with splitting them. Yet another healthy partnership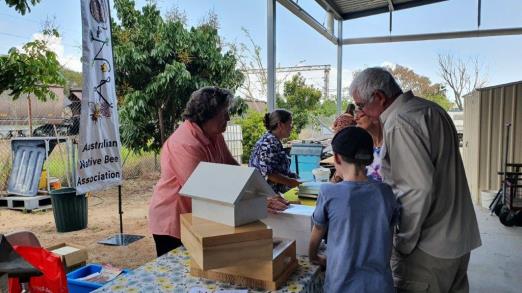 Water meter hive rescues: I mentioned last edition that I had consulted Tim about connecting one of our water meter rescues up to a stronger host hive to give them a bit of support in defending and populating and I have to report that it is going extremely well with no sign of predation. I have now disconnected it from the host hive after one month and it has increased in size with a lot more bees populating it. At this rate it will soon be relocated to its new owners home in Boyne Island.
Photos 3 & 4 – Water meter rescue before & after
With this encouraging result although it is early days, we rescued another one and whilst it was much stronger than the first one, have taken the same approach so fingers crossed and the recipient is to be new member Cherryl .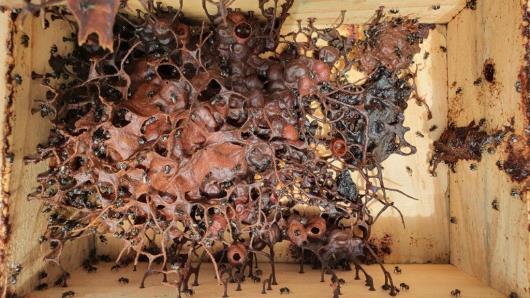 Photo 5
Of the six hives reported to us in the last round of meter readings in June, two, have been rescued successfully, one showed no signs of activity, one had been attacked by phorid fly and destroyed, the remaining two are still to be rescued when Dan and Scott are ready for them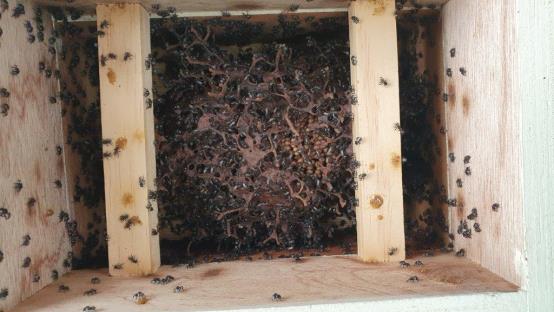 It seems the dreaded phorid fly has been active again as I was contacted by Brisbane ANBA member Bill Kraft, to
check on a log rescue hive he had transferred into a box for a Gladstone friend recently and reportedly was not very active. On inspection it was completely destroyed and the owners were extremely disappointed. Whilst the couple were new to the Native Bee Family, they are now better prepared after visiting us at our Men's Shed display, they are now armed with a new copy of Tim's Bible and offer of support from us in the future.
New member Cherryl Gibson has really caught the bee bug, I paid a visit to her property recently to have a look at her log hive that she was concerned about with an infestation of termites and toads. After some expert ad-vice from Tim the log has been raised off the ground to isolate it from the termites although it did suffer some damage in the process. Cherryl has since done some emergency first aid and it appears to be recovering from the trauma. While there she also showed me what she has done with her 3D printer making one of Nick Powell's split frames and whilst it is a bit big for the standard OATH hive, it fits nicely into my hardwood box.
Looking forward
Thu 27th October Boyne Island State School have invited us to come to their garden group day with the intention of splitting the hive we placed there about two months ago to complement their garden. The students have been busy painting their new OATH hive ready for the day.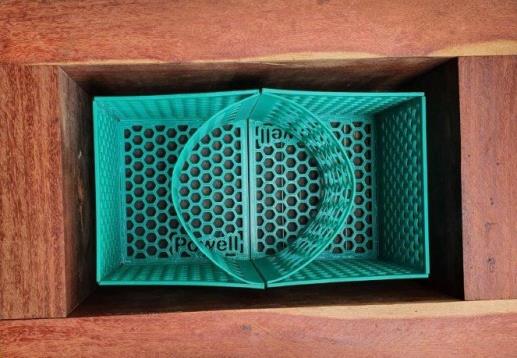 Wed 2nd Nov we have been invited to once again visit Quoin Island on with CQ Uni as part of their Citizen Science Program to give a demonstration of native bee keeping to the students. Kim has two new hives just waiting to be populated
Also, some of our members have booked in early to join the Wide Bay Branch for their workshop in Bundaberg in late November. Unfortunately for me it is right in the middle of turtle nesting season.
We are also getting a lot of enquiries from members of the public interested in getting into native bees, it looks like it might be a very busy season.
From Secretary Ian Anderson and Chairman Mark Larney
For more info on branch activities, visit our Facebook page ANBA Gladstone Branch, https://www.facebook.com/groups/480678232538075