Cross Pollinator Newsletter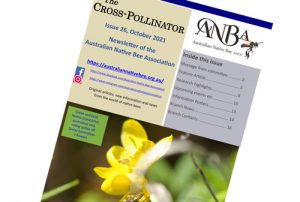 OUT Now: Cross-Pollinator, monthly Newsletter of the Australian Native Bee Association! Read exclusive feature articles. Get up to date on some recent native bee research. Find details of the next meetings and events of the Australian Native Bee Association. Sneak peek of workshops, events and what is happening in the branches.
Join ANBA to receive this monthly Newsletter, https://www.anba.org.au/join-anba/
---
Biosecurity Factsheets for Australian Native Bees
Plant Health Australia: "In recognition of the vulnerability of European honey bees to colony collapse events in other parts of the world, as well as increasing pressure brought about by climate change, chemical use, and habitat disturbance and reduction, Australian horticultural industries are actively investigating the use of Australian native bees as pollinators. While offering benefits for increasing populations of individual species of native bees, little is known regarding biosecurity considerations associated with larger scale production or movement of native bee species, raising potential environmental concerns."
Biosecurity Factsheet PDF list:
---
Agrifutures – Australian Native Bee Strategic RD&E Plan
Free 78 PDF download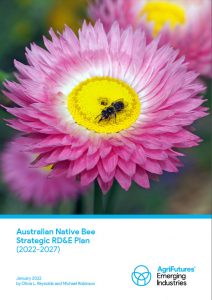 "The development of a Strategic Research, Development and Extension (RD&E) Plan is a crucial first step in growth for an emerging industry. This Australian Native Bee Strategic RD&E Plan clearly identifies opportunities and barriers to industry growth, and subsequent RD&E priorities for the industry. Strategic RD&E Plans for emerging industries are resources that can be used by industry to help drive investment and growth within the industry."
---

Resources
Information sheets on native bees and plants, Activity sheets for the kids including crosswords and colouring in picture sheets
---
Annual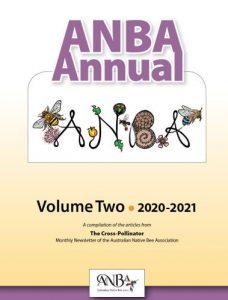 The 60-page full colour publication contains the top articles of last year's Cross-Pollinator, plus an account of our activities and reports from branches.
The results of Honey name poll are out! See page 11.
Our branches are the winners of a grant to buy equipment, read more p 11.
---
Posters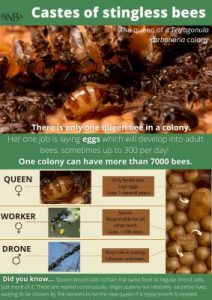 The ANBA has developed a set of 10 posters to use at field days, information stands, events, etc. These can be printed in various forms. They were designed for A3 posters.
We have printed and laminated one set at Officeworks for the Brisbane Branch and they make durable and attractive signs containing high quality information. Branches are encouraged to print their own, or let us know and we can print and send them to you.
ANBA Branches can contact us for high resolution pdf format files suitable for printing, pres@australiannativebee.org.au
---
Book Reviews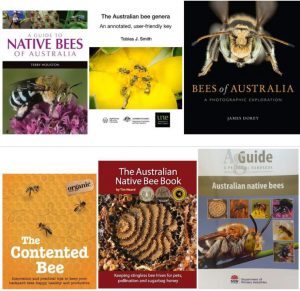 If you'd like to submit a book review contact us before you start to see if it's suitable for the Newsletter and Website: comoff@australiannativebee.org.au
---
ANBA Logos
ANBA allows limited use of it's logos for advertising or promoting of ANBA members websites, related information or events. ANBA members are encouraged to place the ANBA logo on their websites with a link back to this website: www.anba.org.au
Right click on the images and "Save" to your computer. These can be resized to appear smaller on your website if preferred.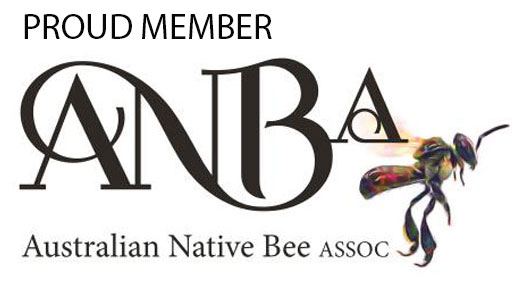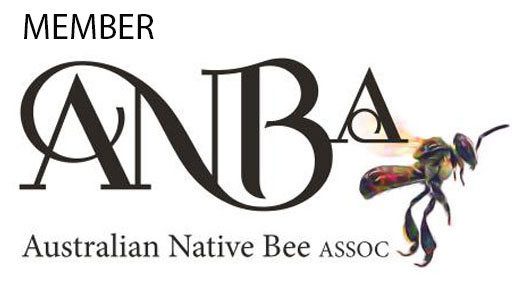 ---
Website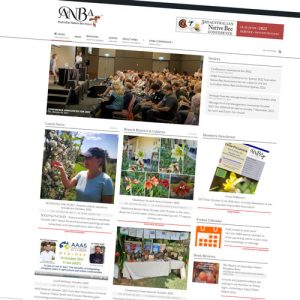 We're adding news, branch reports and events regularly so return for updates. Our website content is drawn from the Cross Pollinator Newsletter. Submit all articles to: sec@anba.org.au
Articles, images and photos on this website are subject to copyright and may not be copied or used in anyway without permission. Normal sharing and linking is perfectly ok. Please add a link back to the original article.